Consumer advocates from around New York urged state lawmakers last week not to rely only on financial education to protect low-income New Yorkers from issues such as payday advance loans - but to actually crack down on financial abuses targeting the poor.
Speaking at the second of two public hearings, the advocates cited a litany of financial practices they say take advantage of low-income and minority consumers around the state, reported The Buffalo News.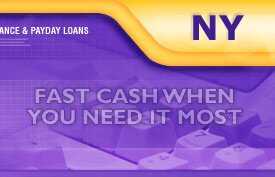 Examples of these practices? They range from high-cost "predatory" lending and tax refund anticipation loans to rent-to-own stores that charge two to three times the retail cost of appliances, electronics and furniture. Critics also relayed stories of consumers victimized by such deceitful lending scams, who are now fighting to save their homes, even as their lives are devastated.
"Predatory [cash advance] lending and fraudulent flipping schemes not only ruin the lives of individual borrowers, but these practices also contribute to the deterioration of urban neighborhoods," said attorney Treneeka Cusack of the Legal Aid Bureau of Buffalo, who handles predatory lending cases."It also increases the burden on an already stressed social service system, which often must provide victims with shelter and other related assistance."
The fight against payday loans: Cusack joined Buffalo attorneys Kathleen Lynch of the Western New York Law Center and David Chadwick of Legal Services for the Elderly, Disabled and Disadvantaged of Western New York in testifying before a pair of Assembly committees in a Manhattan hearing room.
The four-hour hearing, together with a previous five-hour session in Buffalo last month, followed a series of stories in The Buffalo News in June detailing the high costs low-income people pay regularly to cash checks, buy furniture, appliances or electronics, borrow against their taxes, or pay back various kinds of no faxing payday loans.
Lawmakers say they hope to use the hearings to decide what actions, if any, to take to strengthen consumer protections.
"We have to protect the interests of the business people, but in the process of doing that, we have to be sure that people are not taken advantage of," said Assemblywoman Crystal Peoples, D-Buffalo, one of three Democratic lawmakers present. "Because they are unsophisticated does not mean they should be abused."
Activists urged the lawmakers NOT to rely on financial/cash loan literacy programs - often touted by industry representatives - as the solution. They said just teaching consumers what to avoid isn't enough.
Rent-A-Center general counsel Christopher Korst, testifying for the second time at the hearings, reiterated that rent-to-own stores offer "name-brand, high-quality, durable goods" for rent, with no obligation to continue paying, no down payment, security deposit or credit check, and free delivery, installation and servicing.
He said his company complies with state law, and he also defended the stores' locations, saying more than half of the company's stores are in suburban or rural areas, not the inner city. The same could be said of many bad credit payday loan operations. But Peoples challenged that.
"I still have some great concerns about where the stores are located. Do you have any in Clarence? I doubt it," she said.
Korst also conceded under questioning that Rent-A-Center's "cash" prices are 30 percent higher than retail for computers and as much as 25 percent higher for electronics. But he said the prices are fair for the extra risk and work that is required, and said it's not fair to compare those prices to Best Buy, which sells more in a day than Rent-A-Center does all year.
Advocates issued a range of recommendations for lawmakers, including more state support for counseling, more capital for community development and creation of a special low-income savings account program; ideas that would counter the APR charged on regular and faxless payday loans.
In particular, advocates called on lawmakers to prohibit refund anticipation loans and reject efforts by the check-cashing and payday lending industry to change state law to allow controversial payday loans in New York.