According to The Providence Journal, state regulators this week denied an application from a national chain, Check 'n Go, to open a store in the Olneyville neighborhood.
The ruling, signed Tuesday by the state's director of business regulation, A. Michael Marques, followed an outcry from local businesses and community groups, which argued that the proposed cash advance payday loan outlet would be harmful to the financial welfare of Olneyville, one of the city's poorest neighborhoods.
Payday loan lenders, typically, differ from traditional check-cashing services, which charge a fee for cashing payroll, government or personal checks. In Rhode Island, however, both check-cashing services and payday lenders are licensed as check-cashers, regardless of whether they provide payday loans or not.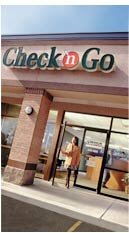 Check 'n Go, a subsidiary of the Ohio-based Eastern Specialty Finance, operates 1,320 offices in 35 states - including two in Rhode Island.
Past payday advance approval: In April, state business regulators approved licenses for two Check 'n Go offices - one at 1565 Post Rd., Warwick, and another at 1500 Diamond Hill Rd., Woonsocket.
But an application for a third location to provide instant cash loans - at 579 Atwells Ave. in Providence - prompted a response from local check-cashing businesses and community groups.