By Paul Rizzo
Payday Loan Writer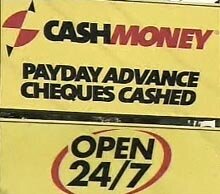 The Canadian Payday Loan Association (CPLA) today applauded the Manitoba government for passing payday loan legislation in the province.
In a press release, The CPLA recognized Manitoba's role in putting their issue of industry regulation in the spotlight and urging the federal government to allow provinces to regulate a viable payday cash advance industry.
The CPLA has been actively calling on governments across the country for two years to introduce and pass effective payday loan legislation.
The federal government is currently holding hearings on Bill C-26, which
will allow provinces to regulate the cash loan industry. The Bill is
expected to be reviewed by the House of Commons Industry Committee before Christmas.
The Province of Nova Scotia recently passed its own payday loan legislation with British Columbia, Alberta, Saskatchewan and New Brunswick
having also publicly committed to quickly moving forward with similar legislation this spring.
"The Government of Manitoba was the first to recognize the need for
effective payday loan legislation that balances strong consumer protection
with a viable industry," said Stan Keyes, President of the CPLA.
Manitoba's Public Utility Board is expected to hold hearings in the
spring of 2007 to set permitted fees for borrowing.
"It will be important to set a cap on fees that allows for a competitive,
viable industry while ensuring consumer protection. We need to shut down the bad apples and let the committed, responsible [quick cash advance] lenders provide this needed financial service at reasonable rates, " added Keyes.