By Paul Rizzo
Payday Loan Writer
The Attorney General's Office of Saipan — the largest island and capital of the United States Commonwealth of the Northern Mariana Islands, a chain of 15 tropical islands in the western Pacific Ocean — is attempting to put a local payday loan firm out of business, according to the Saipan Tribune.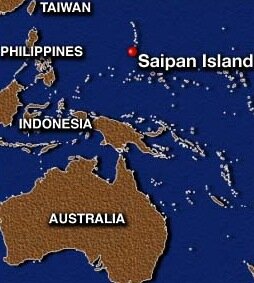 The department secured a court order from Judge David Wiseman last Thursday that effectively puts EC Payday of Tinian out of business. Permanently.
This comes after the allegations that the company committed violations of the Consumer Protection Act on several occasions. The agency allegedly charged consumers as much as 24 percent of their forthcoming paycheck in exchange for instant cash, which it issued in the form of short-term payday loans. That's as much as 62 times higher than the amount allowed under the Commonwealth's law.
In addition, the Attorney General alleged that the cash advance business failed to disclose federally mandated credit terms on the loan documents such as the APR, and the amount financed. This created a strong likelihood that consumers would be confused or not understand the full extend of the instant payday loan.
In addition to shutting the business down, the court ordered the payday advance firm to pay limited restitution to 157 separate consumers who can expect money orders shortly. The court also ordered the business to pay the CNMI Treasury $35,000 in civil penalties.
"This is a win for consumers," said Attorney General Matthew Gregory. "We want to send a strong signal to all businesses that this office intends to enforce the usury and consumer protection laws of this Commonwealth. We will not tolerate predatory lending practices, especially in these tough economic times when consumers are particularly vulnerable to offers of a quick cash loan."
Gregory promised more enforcement actions as needed.