By Paul Rizzo
Payday Loan Writer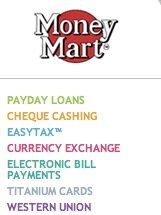 Yesterday, we reported on new payday advance legislation in Nova Scotia.
One would assume that a payday loan company in the area, such as National Money Mart Company, would object to these laws. But one would be mistaken.
One of Canada's leading convenience financial services provider recently sent out a press release talking about such faxless cash advance legislation. It said it welcomes the new regulations passed by the Nova Scotia government on November 23, 2006 that "will balance strong consumer protection with a viable payday loan industry."
Nova Scotia's new law to regulate the payday loan industry is the first in Canada. The provinces of British Columbia, Alberta, Saskatchewan, Manitoba and New Brunswick have also expressed a desire to quickly introduce similar legislation on pay day loans.
"Money Mart strives to be the industry leader in consumer protection," said Syd Franchuk, President of National Money Mart. "We welcome this important legislation and share the government of Nova Scotia's commitment to balancing consumer protection while ensuring a viable industry that can responsibly serve the millions of Canadians and thousands of Nova Scotians who use this important financial service."