By Paul Rizzo
Payday Loan Writer
Spartanburg, S.C., payday loan firm Advance America, which experienced a modest decline in revenue last year, reported strong first-quarter growth in both revenue and profit last week. During the first fiscal quarter, the company's 2,640 stores generated $152.2 million in revenue, up 10 percent from the same period in 2005.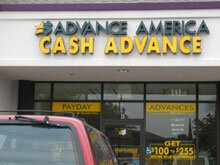 The 42 new stores that the corporation opened during the quarter, as well as the growth of its existing stores, were responsible for the growth.
Gross profits rose 9.2 percent, to $50.1 million, while net income was $20.4 million, compared to the $19.7 million earned during the same period a year ago.
"In general, it was a very good quarter for us," said CFO John Hill.
Revenues would have been even higher if not for legislative and regulatory issues in some areas, the company said. During the last quarter, Illinois and Indiana instituted databases to track customers and limit payday loan use. Advance America suspended operations in Arkansas and Pennsylvania, two states in which the company had partnered with federally chartered banks to offer cash loans.
Hill said that Advance America is working on alternative business models so that it can resume issuing loans in the two states. Similar situations have been encountered Texas and Michigan during the past year, and the company altered its models in order to keep its faxless payday loans legitimate. Advance America also wants to take its product offerings up a notch and issue loans on a grander scale.
Currently a "monoline" payday company, meaning it offers only loans to customers, it is looking into options that it might offer alongside the payday loans. As the quick cash loan industry matures, growth will slow and diversification will be the way to boost revenue.
In 2003, the company test-marketed a tax return/tax refund loan service, and also tried offering online payday loans. At that time, business was growing so rapidly Advance America decided to pull back and focus only on its core business. Now executives feel that the time is right to explore its options more seriously.